What makes Chai Latte special?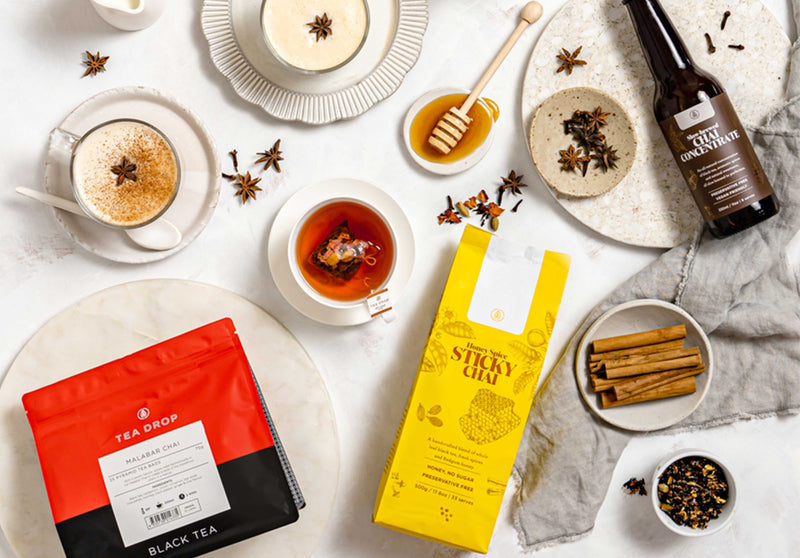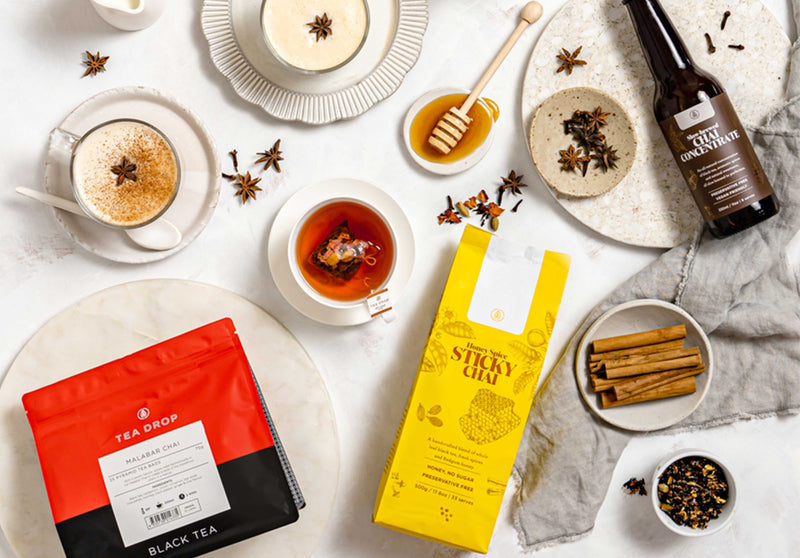 What makes Chai Latte special?
Did you know that when we call spiced teas chai latte, in India chai is simply known as tea? A chai is a combination of black tea and spices. Chai Latte is a tea that simply shouldn't be missing from any authentic tea-lover's pantry.
Tea Drop Chai Latte Range
Hand crafted and blended to perfection, each of our delicious Chai options is a rich & harmonious marriage of whole leaf black tea and spices, creating a superior flavour that's guaranteed to be the perfect drink any time of the year.
We source our teas and ingredients directly from origins and are made in small batches right here in the heart of Melbourne, so our chai is always fresh. Learn more about our cozy and delicious chai options below.
Traditional Chai Latte
This deliciously rich powder blend makes a creamy and aromatic chai bursting with traditional spices, comforting black tea flavours. The perfect pour as a gluten free latte or chai frappe.
Want to know how to make traditional chai recipe? Click here to find out more! Traditional Chai Latte - Watch Video
Honey Spiced Sticky Chai
Made right in the heart of Melbourne, this artisanal chai brew is blended in small batches and infused with whole leaf black tea, ginger, cardamom, clove, cinnamon, star anise, nutmeg, black pepper & Redgum honey sourced from the flourishing Redgum forests of Australia, to give the blend a whole new level of spice and an enhanced flavour profile.
 A light to medium sweetness that perfectly blends the black tea and spices together in a subtle smokey finish. So, prepare to experience pure bliss with every sip of our Honey Spice Sticky Chai.
How to make a traditional chai recipe using our Honey Spiced Sticky Chai
Place 2tbsp of sticky chai to jug.
Cover the chai with hot water (30ml) and allow to brew for 1-2mins.
Pour in 150ml milk of your choice and steam to 68C.
Strain into warm glass and garnish with chai sprinkles.
Chai Concentrate
If chai latte is your "go to" everyday coffee alternative, then our Chai concentrate is the perfect choice.
Our Chai Concentrate is a slow brewed blend of whole leaf single origin black tea, fresh spices and kithul treacle; a traditional Sri Lankan ingredient known as the maple syrup of the East. Left simmering for the perfect period of time, this Chai is strained and conveniently bottled in 100% recycled glass for an authentic quality taste ready to enjoy. No preservatives are added and its vegan friendly.
So easy and quick to make. No mess and don't need to wait. If you have a little espresso machine even more so easier to make.
How to make a traditional chai recipe using Chai Concentrate
Pour 35ml of Chai Concentrate and 140ml milk of your choice.
Steam together to 68C.
Pour into a warm glass.
Garnish with chai sprinkles.
Malabar Chai Tea
If you don't like having milk and looking for a chai tea or masala chai, this is the option for you.
Malabar Chai tea is one of Tea Drop's signature classics. It is a tea of spicy & complex body, with a deliciously smooth finish. The superior flavor is due to superior ingredients including pure black tea, cardamom, cloves, cinnamon, star anise, rose petals & ginger. Our Malabar Chai tea is available in plant-based pyramid tea bags or loose leaf tea.
Tips on frothing the milk at home
Most find frothing the milk the hardest step when making a homemade chai latte. You don't have to have a fancy espresso machine or a milk frother to whip up frothy milk. You can create the creamy texture simply by whisking or blending. Whisking works best for dairy-based milks while blending is best for soy, coconut, and nut-based milks.
Whisk - Heat the milk on medium to high heat. Use a hand mixer or a metal whisk to vigorously beat the milk. It should take just a few minutes to have frothy milk.
Blend - Use an immersion blender to froth your milk. For best results, blend the milk before heating it on the stove. Alternatively, you can shake the milk in a large glass jar or a cocktail shaker. Once you add heat, the milk will froth and foam in minutes.
 Health benefits of drinking a chai
As the chai latte has black tea and contains caffeine. It's a delicious pick me up for the day and an energy boost in the afternoon.
Aids in digestion
High in antioxidants
Helps reduce pain and inflammation
Give it a chai
Explore and enjoy our range of healthy and delicious chai latte blends. Perfect for making them in the comfort of your own home. Get ready to spice up your day with these rich and creamy blends, that provide immune boosting effects and a clean kick of energy for the perfect pick me up. Give it a chai today.