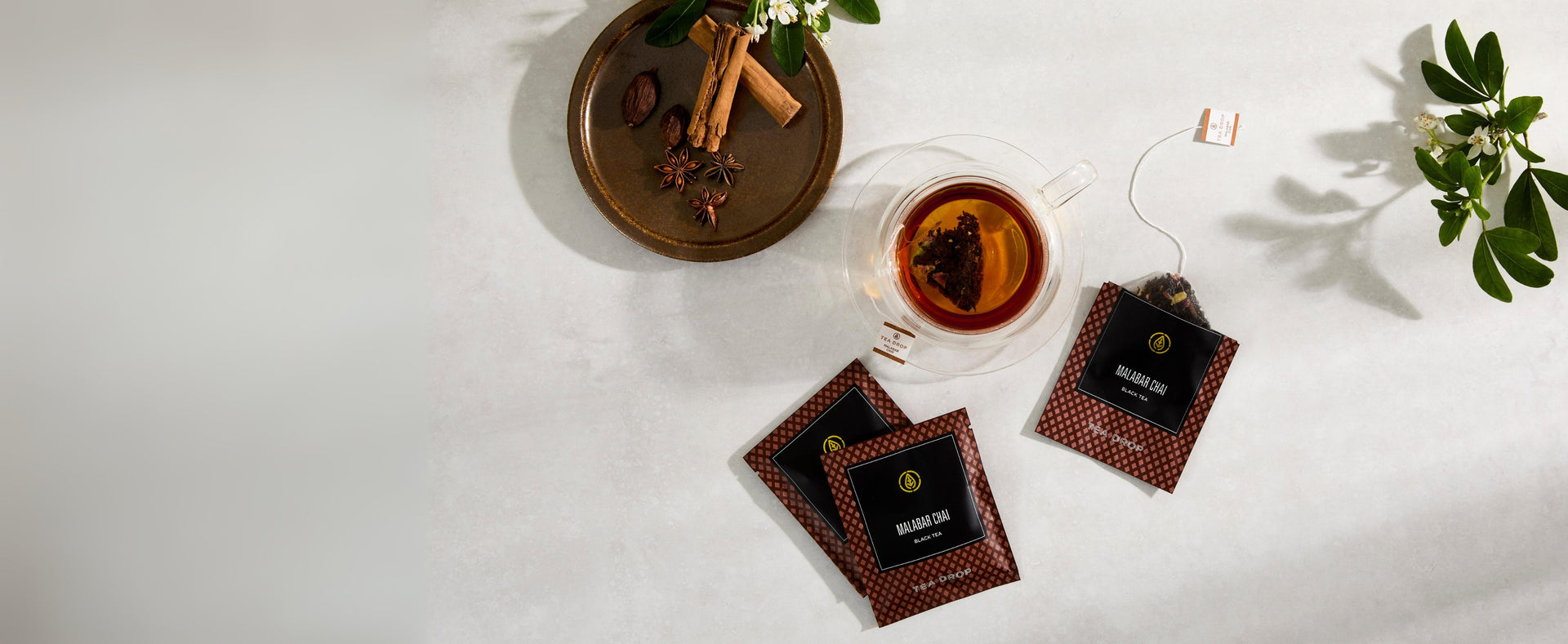 Tea Store Online Tea Drop
Chai Lattes
Treat yourself to a rich and creamy Chai Latte each and every day. Go on, give it a chai.

Aromatic, wholesome and satisfying, our chai teas follow the path of traditional Indian blends. Make it a special moment with our loose-leaf chai or switch to powder for instant pleasure.
Typically containing sweet spices such as cinnamon, cardamom, cloves, ginger, black pepper, fennel and star anise, chai tea famously originated from the bustling markets of India. Made from a concentrated blend of these exotic spices, a chai latte features a richer, sweeter and creamier flavour profile. Comforting and warm, the spicy yet sweet blend of a chai latte can be enjoyed at any time of day and is a fragrant alternative to your morning cup of coffee.
Different types of chai latte
Traditionally available as a loose leaf tea, types of chai will vary slightly. At Tea Drop, discover your favourite way to drink this beloved beverage when you try our sticky chai, chai concentrate or traditional chai latte. With loose leaf tea, tea bags, and powder to choose from - you can enjoy a steaming hot cup of delicate, milky chai latte your way.
Our Traditional Chai Latte blend comes as a powder that makes a creamy and aromatic chai bursting with traditional spices.
Our Honey Spice Sticky Chai is an artisanal chai brew, blended in small batches and infused with whole leaf black tea, spices and Redgum honey, for a sweeter alternative for a delicious chai latte.
Our Chai Concentrate is a slow brewed blend of whole leaf single origin black
tea fresh spices and kithul treacle; a traditional Sri Lankan ingredient known as the maple syrup of the East. Left simmering for the perfect period of time, this chai latte is strained and conveniently bottled for an authentic quality taste ready to enjoy.
Is chai latte good for you?
The health benefits of chai can be linked to the beneficial properties of the individual herbs and spices found within the tea. Cinnamon and ginger have been linked to heart health and digestion, lower blood sugar, blood pressure and cholesterol. While ginger and cardamom may aid the digestion.
Join us for a cup
Buy chai latte online with Tea Drop today and discover your perfect sweet and spicy blend of this luxurious brew.