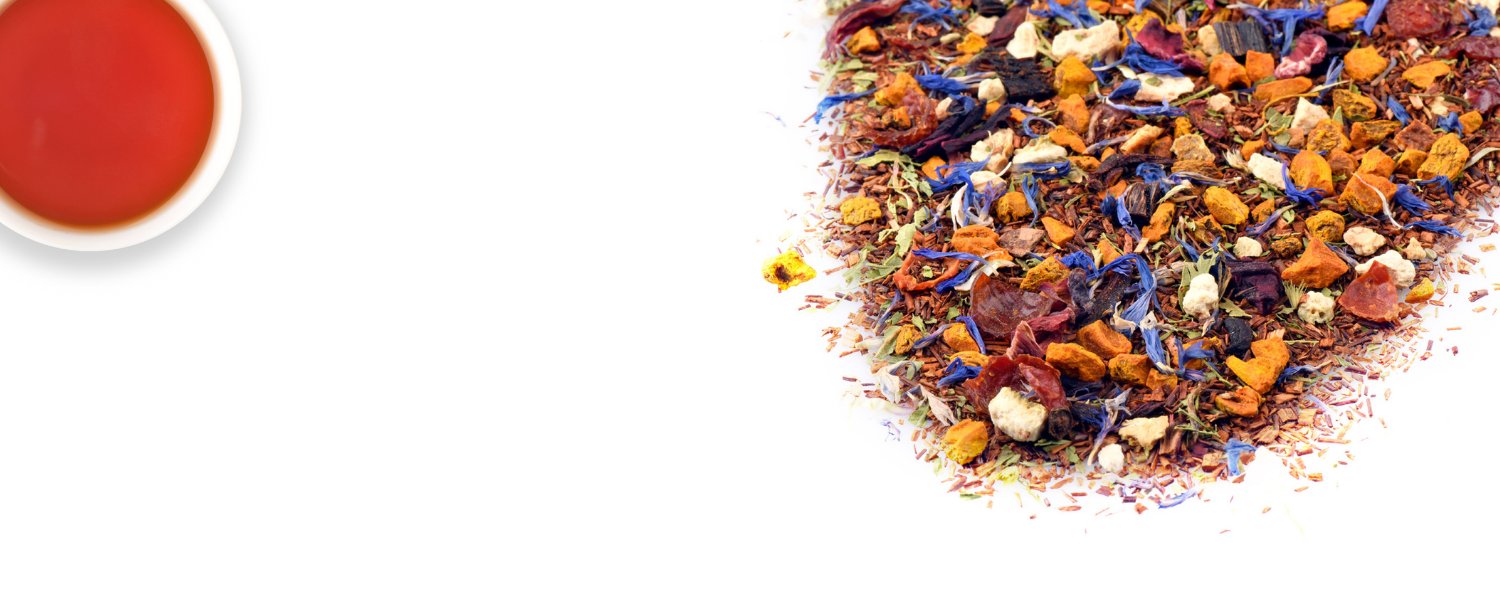 Tea Store Online Tea Drop
Turmeric
Delicious as it is healthy! Enjoy a golden brew packed full of goodness.
Turmeric is a vibrant yellow powder, derived from the flowering roots of the Curcuma plant. It has been used for centuries across Asia and has long been recognised by Ayurvedic and Chinese medicine as having antiviral, antibacterial and antiparasitic properties. Today, many have turned to turmeric as a healthy alternative to coffee, incorporating it into their morning ritual as a golden turmeric latte or to boost immunity during the cold and flu season in a turmeric tea. With a delicious spicy taste and warming quality, it's no wonder that it's exploded in popularity.
A golden drink to replace your daily coffee
At Tea Drop, we have a great selection of turmeric teas, also known as golden tea, to give you a light and natural boost throughout the day. Our Turmeric Tonic is a delicate blend of turmeric, peppermint, ginger, liquorice and cinnamon, packed with antioxidants and vitamin C. Start your day on a positive note with our Turmeric Zest which combines a delicious mix of vanilla, hibiscus, citrus and the magic ingredient, Turmeric! Also rich in antioxidants, this tea can help keep the flu at bay in the chillier months. For a hot drink to replace your craving for coffee, our turmeric latte powder combines black pepper, cinnamon, ginger and cardamom with Turmeric to create a creamy and spiced morning beverage.
How to brew our turmeric teas and make our turmeric golden latte
Our turmeric teas are best enjoyed as a hot brew. When brewing with hot water, use three teaspoons and leave it to steep for 3-6 minutes. It's easy to whip up a warming golden milk turmeric latte with our turmeric latte mix, simply add heated milk to half a teaspoon of powder and stir. We recommend using soy milk and a touch of honey for a deliciously creamy replacement to your coffee.
Start your morning right and buy turmeric tea and latte online
If you're looking to create a healthy morning ritual, explore our range to buy turmeric latte powder and turmeric teas online. We also stock a delicious variety of herbal and black teas, teapots, mugs and brewing tools for the tea connoisseur, all of which you can try at our brew bar.
For advice on the best turmeric teas to kickstart your day, get in touch with us today. Our team of tea enthusiasts are always happy to provide guidance for a modern tea experience.
FAQs
Can I drink turmeric tea every day?
Yes, absolutely. Consuming turmeric on a daily basis will help you reap the various health benefits that it can provide. Our collection of turmeric teas makes for a perfect morning ritual, an afternoon pick-me-up or a pre-bedtime routine. With so many delicious options to choose from, drinking a cup of our golden tea is a daily pleasure.
Is it okay to drink turmeric tea at night?
Yes, in fact having a cup of golden turmeric tea one hour before going to bed can help relax you and improve your sleep. Known for its mood-enhancing and relaxing qualities, turmeric tea can actually help you unwind before bed. What's more, most turmeric teas are herbal in nature and contain no excitants — so you can rest your head knowing your body is full of goodness. Buy turmeric tea from Tea Drop today for a soothing caffeine-free herbal mix.
How much turmeric tea should you drink a day?
There isn't a steady and fast rule about how much turmeric tea to drink each day — as each tea mix contains different amounts of turmeric. Don't worry though, there is no risk of overdosing when it comes to turmeric, so have it as often as you wish. For avid tea drinkers, explore the rest of our tea collection for more flavours and blends with different health benefits.
What are the benefits of turmeric tea?
Turmeric tea has many health benefits, from boosting immune functions to positively affecting various health conditions such as lung problems, diabetes, Alzheimer's, cancer, blood flow and intestinal issues. Since it doesn't contain any caffeine or stimulants, it has also become increasingly popular as a healthy alternative to coffee.
Why should I buy turmeric tea at Tea Drop?
When you buy turmeric tea at Tea Drop, you'll get fresh tea prepared with the utmost of care. Our tea leaves and ingredients are ethically sourced and hand-picked from across the globe for their quality. And our in-house master blender, who has decades of experience, tastes and approves every brew for an exceptional final product.
Want to know more about why ours is the best turmeric tea on the market? Contact us and we'll be happy to tell you more.
What types of turmeric tea does Tea Drop offer?
A healthy alternative to coffee, turmeric can be enjoyed as a latte or tea to boost immunity. We currently offer 4 products:
Turmeric zest — A turmeric tea that is infused with vanilla, hibiscus, citrus and other light earthy notes. Rich in antioxidants and immune-boosting ingredients, it is a truly magical concoction!

Turmeric ginger — A turmeric and ginger herbal tea with subtle influences of liquorice and orange peel. This healthy tonic helps with blood flow, digestion and cold and flu prevention, plus it tastes fantastic.
Turmeric tonic — A turmeric tea, but this one is boosted with ginger root, mint, spices and a citrus aroma. Packed full of antioxidants and vitamin C, it's the perfect tonic to boost your wellbeing and keep you moving onwards.
Turmeric latte — A turmeric latte powder that infuses finely ground spices of cinnamon, cardamom, ginger and black pepper. Rich in anti-inflammatory properties and energising power, it is the ideal coffee substitution. This turmeric latte mix comes in a powder form and it can be prepared with hot milk or added to a smoothie or yogurt for an extra kick.

Browse our full range of turmeric teas online today and enjoy the various benefits that this tasty tea has to offer.