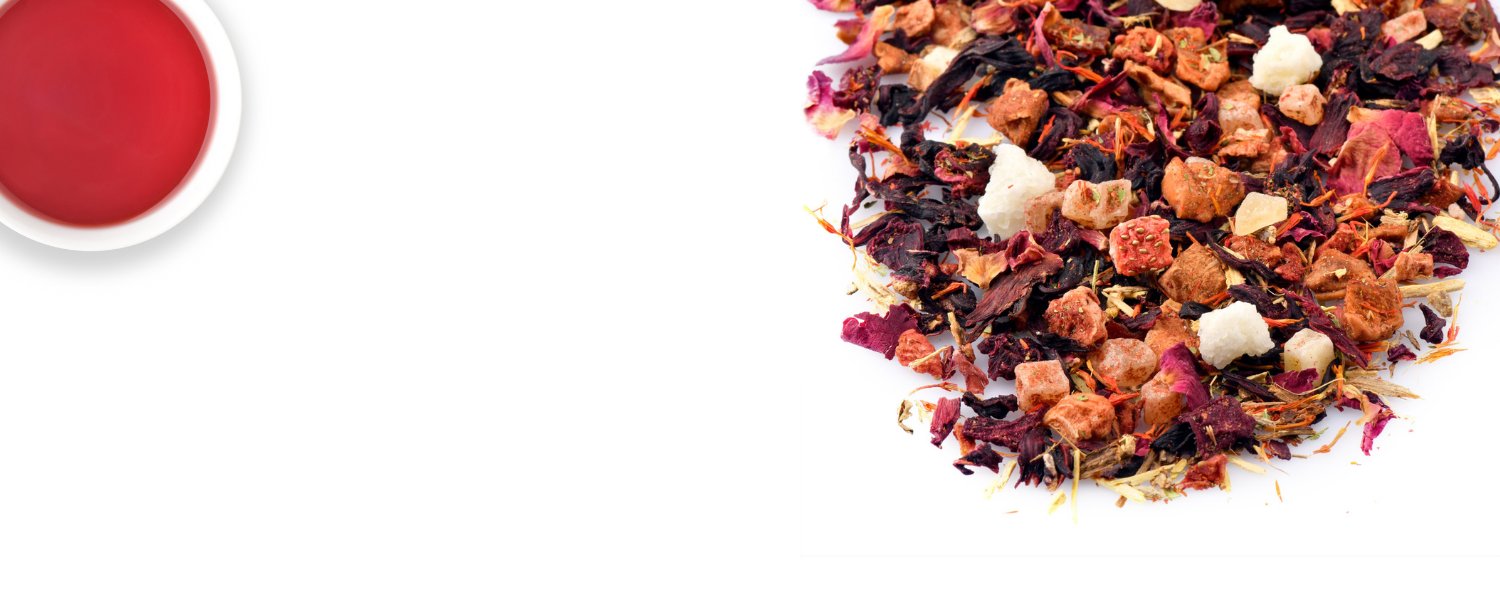 Tea Store Online Tea Drop
Fruit Tea
As the perfect summer refreshment or a reviving winter brew, our selection of fruit teas are great for hot and cold brewing.
As the perfect summer refreshment or a reviving winter brew, our selection of fruit teas are great for hot and cold brewing. Packed with natural sweetness, each infusion has a unique blend of stoned and tropical fruits along with herbal tea leaves and florals.
Antioxidants for days
We all know that fruits are full of healthy nutrients like antioxidants and naturally occurring vitamins. Antioxidants have garnered the attention of many people trying to improve their health - and it's for a good reason. Antioxidants have been proven to slow down and prevent cell damage. Fruit teas, which are made of dehydrated and dried fruit, are packed full of antioxidants and vitamins. So enjoy a cup (or 2) and reap the benefits of antioxidants!
Tropical fruits for natural sweetness
A fresh cup of fruit tea is a great way to unwind after a long day or as a sweet treat in place of dessert. Take your tastebuds on an island holiday with our Tropical Sky blend of fresh and bright fruits. With candied mangos and papaya, tangerine slices and sunflower blossoms, you'll experience a sweet and sunny burst of flavour. For a cool drink on a hot summer afternoon, our Strawberry Guava fruit tea can be served as a refreshing iced tea. This flavoursome blend makes for a delicious fruity punch when spiked with a shot of gin and served with fresh pineapple.
Winter wellness with berries and stoned fruit flavoured teas
Boost your antioxidant levels over winter with our berry-based fruit teas. As our most popular herbal infusion, the Fruits of Eden balances a delicate blend of earthly delights. You'll taste juicy strawberries, spritely apple pieces and earthy beetroot, along with the sweet and tangy notes of pineapple and mango. For a rich, creamy brew, the Birthday Cake tisane incorporates the sweetness of blueberries, strawberries and blackberries with the addition of Irish cream. An indulgent blend, this tea is the perfect dessert replacement. Try these tisanes and our broad selection of blends at our boutique brew bar, equipped with cold brew taps for perfect flavour extraction.

How to make iced fruit tea
Making a delicious cup of iced fruit tea is easy - and you can even make extra to enjoy throughout the day.
First, choose your favourite fruit tea blend. Tropical and berry blends are super refreshing as an iced tea - but try many different options to find the ones you love.
Then, bring water almost to a rolling boil (fully boiling water can be too hot for fruit-based teas). Steep your tea for three to six minutes to develop strong fruity flavours.
To finish - add copious amounts of ice into your tea, and let the tea chill. If you made a large teapot of tea, add extra water and ice into a pitcher to access a fruity beverage all day.

Shop fruit teas online to broaden your tea drinking horizons
At Tea Drop, our team of tea specialists travel the world in search of exciting teas to bring you a curated selection of memorable fruit flavoured teas. Our leaves are handpicked and tasted by our master blender. We ensure that our produce is ethically sourced in seasonal batches to deliver blends that are fresh for brewing.
Explore our range of fruit teas today to add a burst of flavour to your brewing ritual. Alternatively, get in touch with us and our friendly team of tea specialists can provide you with the finest tea experience.