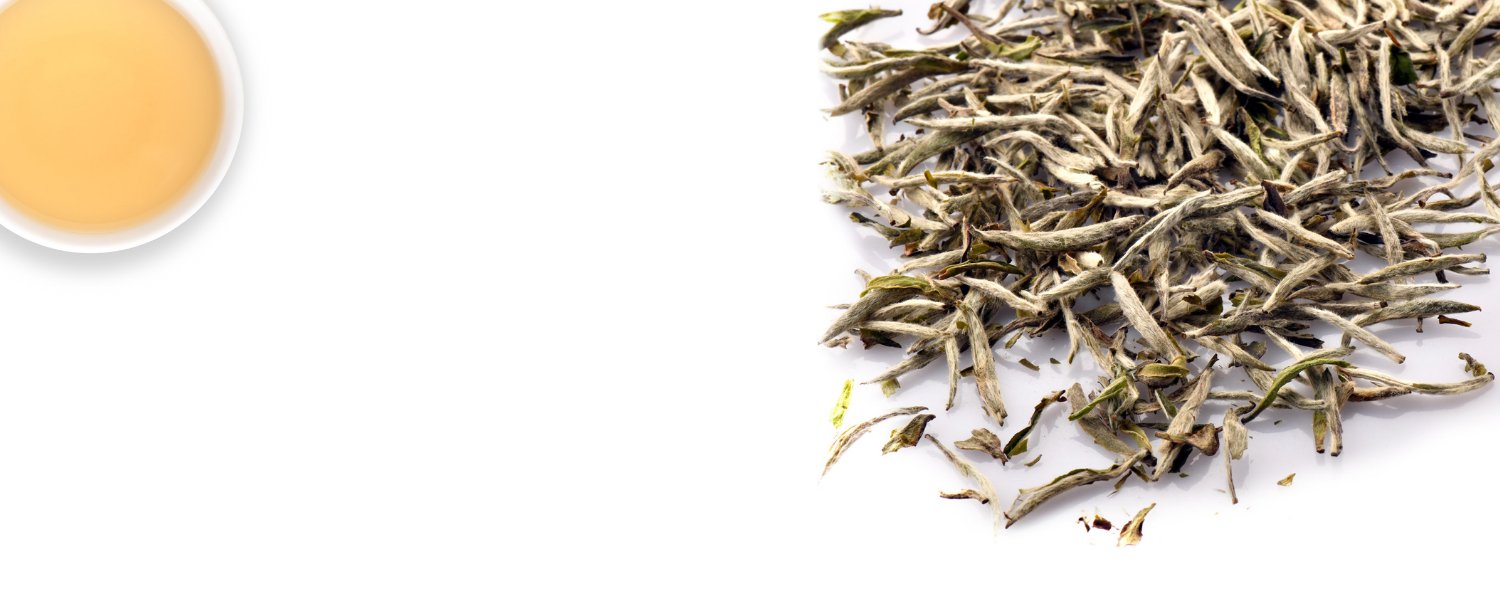 Tea Store Online Tea Drop
White Tea
Once reserved only for the royal teacups of Emperors, smooth, elegant and pristine – a princess among teas.
Smooth, elegant and pristine — white tea is a princess among teas. Once reserved only for the royal teacups of Chinese Emperors due to its rarity, white tea is considered one of the finest teas in the world.
No, white tea has nothing to do with milk. That would be sacrilege to this most delicate of tea varieties. White tea takes its name from the silvery-white hairs on the young, unopened buds of the Camellia Sinensis plant it is harvested from. Our Tea Drop artisans follow the same time-honoured traditions of handpicking and sun drying the finest leaves and buds of the tea plant. This minimal processing and low oxidation result in a delicate, fresh, pure tea variety — white tea, the "tea of Emperors".
Boost your health with our premium white tea
White tea is one of our most delightful specialties. Apart from having a divine taste, it's also supportive of your overall health. Over the last decade, there has been a lot of research on white tea's health benefits, which are said to include:
Boosting your immune system
Improving your cardiovascular health
Helping you shed excess pounds
Improving your skin health
Supporting your body's fight against free radicals
Reducing chronic inflammations
Aiding in better oral health
Supports healthy bone and joint function
These health benefits are attributed to the tea being packed with antioxidants and polyphenols. While this list is only an indication of potential health benefits and cannot be taken as medical advice, the fact remains that a hot cuppa white tea will at least help you relax, settle and feel more at peace.
Discover the delicate taste of white tea
Delicate, light and fresh, white tea is more on the sweet side, especially if compared to green or black tea. Even if it's harvested from the same plant, the buds and leaves are younger and minimally processed , resulting in a more delicate tea. At Tea Drop, we have an exquisite range of white teas online available and each presents different flavours:
Cream of Earl Grey — A refreshing twist on the classic Earl Grey, this white tea presents hints of vanilla and subtle hues of bergamot.
White Berry Forest — Tasting as delicious as it sounds, this is the white tea to try if you like fresh, fruity flavours and delicate floral notes.
White Spice — Looking for something a bit spicier? You have found it. Artfully balanced, this white tea retains all the delicacy of its tea type even with the addition of ginger root, cinnamon, cardamom, cloves, star anise, rose petals and safflower.
Peony King — For a mellow, earthy white tea with strong hints of fruit and floral accords and no bitterness, look no further than Peony King. Just as delicious out of the fridge on a hot summer's day.
Bai Hao Yinzhen — Also known as Genuine Silver Needle, this is the white tea for the true connoisseurs. Only picked for a limited time of the year, and in strict weather conditions and time of the day, there is nothing rushed about a cup of Bai Hao Yinzhen. The floral hues and hints of apricot make for a delicate, delicious tea idea that will leave you Zen all day long.
10 Years Aged White Tea — The longer it is stored, the richer and mellower white tea becomes. If you are after a smooth, deep, complex white tea, this is the one to order.
How to prepare and drink white tea
White tea is a more delicate and subtle tea than its cousins made from the same tea plant. For this reason, the way you prepare and drink white tea is slightly different. Avoid scalding the tea leaves at all costs, as this will ruin their taste and probably result in a bitter brew. Instead, carefully heat up your water with the help of a thermometer.
1. Heat water to 65-70℃
2. Pour 230ml of hot water on the recommended amount of teaspoons for your white tea variety
3. Seep your loose tea leaves for 1 to 2 minutes in an infuser
4. Ready to enjoy as is (no sweeteners or added flavours required)
If you are expecting the loose leaves or the tea to look white, you will be surprised to find out that it is actually not the case. Brewed white tea is a light, golden yellow colour, resembling honey or paler, depending on the variety.
Premium white tea, handpicked and treated with care
All of our white teas are ethically sourced and treated with care. Our master blender, packing decades of knowledge and family traditions, carefully tastes every single batch for purity and quality. We always source only seasonal and small-batch leaves and produce, so that our tea is in prime fresh condition for serving.
Buy white tea online in Australia today
Are you looking to buy white tea of the highest quality? Look no further. Tea Drop is your go-to tea shop for a wealth of tea varieties for all tastes and needs. From commonplace varieties of green and black teas to the most sought-after white and Pu-erh teas, you will find what you are looking for on our website. Choose from our available white teas online or come and visit our brew bar at the South Melbourne Market. For any questions regarding our white tea range or any other product we offer, please reach out to us today.