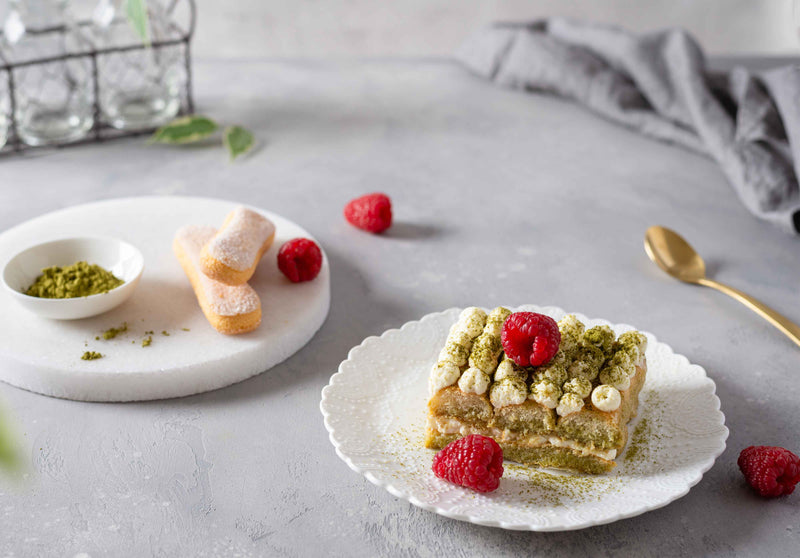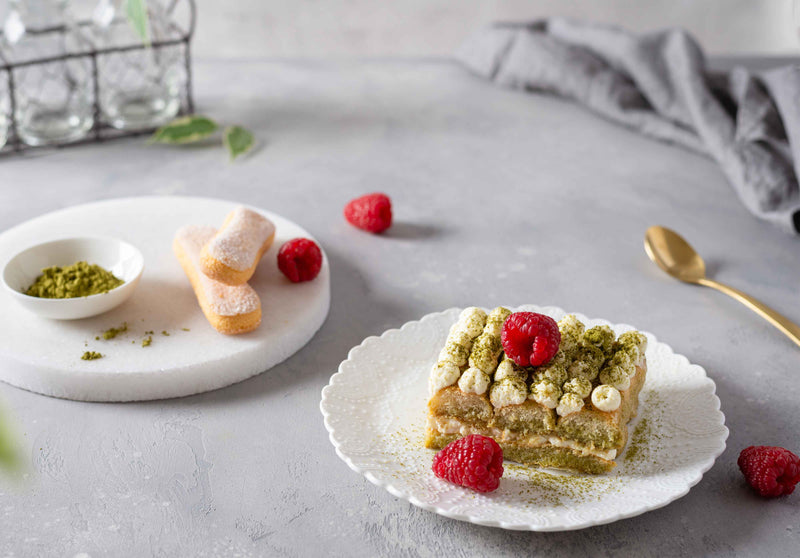 Matcha Tiramisu
If you ask a room full of people what they want for dessert someone is bound to shout "Tiramisu".
Tiramisu is an Italian dessert consisting of coffee dipped lady fingers layered with mascarpone cheese and powdered chocolate.
We decided to give this classic recipe a little Tea Drop twist by switching out the coffee with our very own Tea Drop Matcha. By adding matcha to the mix you unlock a whole new dimension of versatile flavour, leaving a lingering sweetness in your mouth after every bite. Not to forget matcha is packed full of antioxidants and is a great coffee replacement as it gives you clean energy without the coffee crash!
What you need:
6 large egg yolks
170g brown sugar
450g mascarpone cheese
235ml heavy cream
2 tablespoons Tea Drop Matcha Latte and a little extra for sifting
4 tablespoons Kithul treacle 
350ml water
24-30 ladyfingers
 How to make the tiramisu cream:
In a medium saucepan whisk 6 egg yolks until they are slightly lighter in color. Add 170g brown sugar while continuing to whisk the yolks until thick and creamy.
Place saucepan over a double boiler and let it steam and keep whisking till soft peaks form.
In a sperate bowl whisk 450g of mascarpone till it's smooth.
Now combine that with egg yolk/sugar mixture and fold together. (make sure there are no lumps)
In a separate bowl whisk the heavy cream but not too hard because we don't want the cream to get too thick, we want it to be nice and fluffy.
Now combine that with the mascarpone and fold together.
Assembly:
Add 2 tablespoons of matcha and 4 tablespoons of kithul treacle to baking pan with 350ml of hot water.
Whisk the tea in a back-and-forth motion until the surface of the matcha becomes frothy.
Dunk lady fingers into matcha mixture (not for too long as it may fall apart very quickly) and line them up in a separate baking pan evenly,  so the bottom is covered.
Once the bottom is filled add half of the tiramisu cream on top.
Now arrange another layer of matcha dipped lady fingers on top and add remaining tiramisu cream on top.