10 Ingredients to have during Winter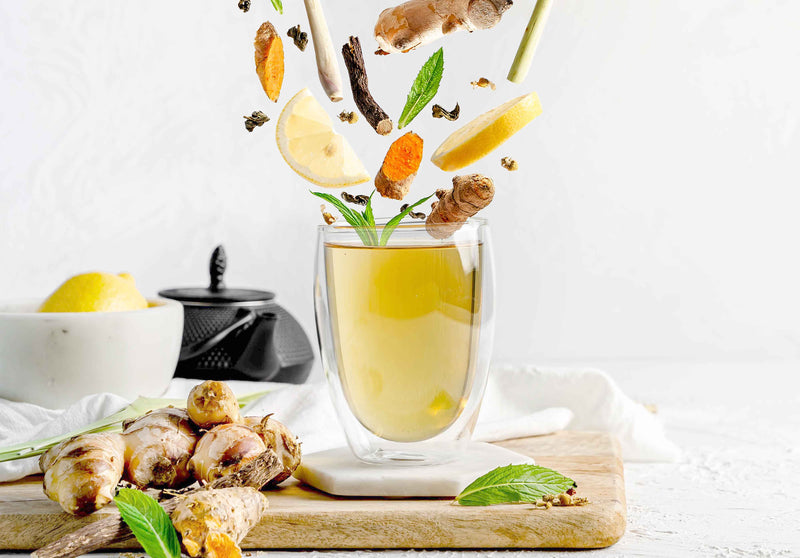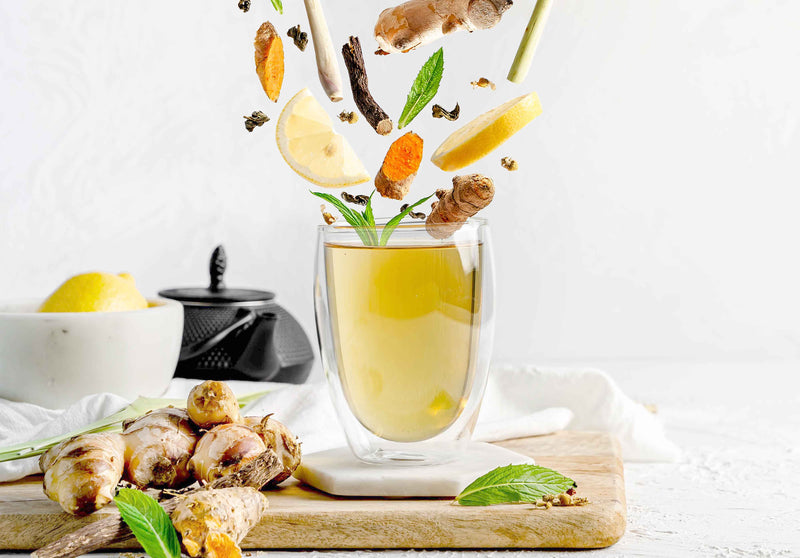 10 Ingredients to have during Winter
When the temperature drops, a piping hot cuppa is the perfect way to warm up from the inside out.  There are many basic ingredients that to incorporate them into our diet on a day-to-day basis and enjoy as a delicious and healthy drink.
Here are our top 10 ingredients that are easily accessible with our range of wellness tea blends and can help our immunity and overall well-being to cope with the seasonal changes and related health conditions.
Lemongrass
You need cold relief, but you also want to get on with your day. The solution? Lemongrass. Lemongrass consists of long stalks made up of tightly wrapped fibrous layers. It belongs to the same general family as maize and bamboo. The flavor profile is primarily the lemon note against a mildly herbaceous background.
Warm up this winter with a tasty mug of Lemongrass Ginger tea. A refreshing blend infusion of zesty lemongrass and spicy ginger balanced with rosehip and hibiscus for a refreshing and calming brew
Lemon Myrtle
Lemon Myrtle is a refreshingly citrusy tea with menthol undertones and hints of spice. Offering a soothing experience to drive away the blues and calm a sore throat, this lemony herb has been a pantry staple for those who love a strong dose of citrus zing.
Experience the fresh flavours and citrusy zing of our Lemon Myrtle Tea. 
Chamomile
Chamomile flowers look like daisies and make one of the most popular caffeine-free tea options for unwinding and relaxing. From the aroma to the taste, the floral notes of chamomile shine through in a refreshing way. It has a powerful antioxidant that activates the brain receptors and encourages a restful night of sleep, when you are having trouble sleeping due to a sore throat and stuffy
Try our perfect blend of Chamomile Blossoms, rose petals and lavender buds to give you a good night's rest this winter
Peppermint
Peppermint is another herb that has been around for ages, spanning cultures. People from the ancient Greeks to modern-day Moroccans drink peppermint tea to cleanse the palate and soothe the tummy.
Our premium peppermint tea is hand crafted and hand sorted with only the freshest peppermint leaves. It's packed in small batches for superior flavour and freshness. Taste the difference today.
Moringa

Winter is the time to give your immune system a little boost and moringa, aka the miracle tree, will give it exactly the type of boost it needs. Traditionally used to help combat malnutrition, this protein and mineral-rich plant is gaining in popularity in wellness circles but we're letting you in on the secret now. It's full of vitamins, minerals and detoxifying properties to help you feel your best.
Our Moringa Tea Range, a winter selection focused on promoting wellness in different ways through each blend's unique combination of ingredients - with a primary focus on the Moringa Leaf, a natural superfood that will be your saving grace this winter. 
Matcha
Made from stone-ground green tea leaves, matcha is packed with benefits that you need to sail through winter - antioxidants, polyphenols and caffeine. Best of all, unlike a cup of coffee, a simple dose of matcha will give you a calm boost of energy and focus.
Get a healthy kick of pure green energy with our pure organic matcha tea.
Rooibos
Rooibos tea is truly unique, made from a bush native to (and only found in) South Africa. Perhaps rooibos' biggest claim to fame is its unique antioxidant content. Specifically, it contains at least two health-enhancing compounds (aspalathin and alpha hydroxy acid) that do not exist in any other natural source that you can ingest. It's also the only tea that provides quercetin, a powerful weapon against fighting free radicals in the body.
Want to tackle those spring sniffles head on? Then indulge in a hot cuppa from our delicious rooibos teas.
Turmeric
A flowering plant from the ginger family, turmeric is a trending spice known for its bright orange colour and earthy, warm flavour. Used in everything from yummy curries to soothing face masks, this super ingredient is thought to treat tummy troubles and improve the look of skin. No wonder it's on our list!
Boost immunity and reduce inflammation during this winter season with our Turmeric tea.
Ginseng
This probably isn't your first run-in with ginseng. A staple in ancient Chinese medicine, it's one of the world's most popular herbal remedies.  Tea Drop's Ginseng Oolong also works miracles on taste buds. It is sweet, strong and carries a strong, rewarding aftertaste. 
Ginger
When it comes to ginger, there's a lot to love. Popular for its powerful anti-inflammatory properties, this ancient spice is believed to help relieve nausea, soothe the tummy and boost your defenses against colds and viruses. It's warm, spicy taste feels like the kick in the pants your system probably needs. So warm up this winter with our ginger teas.
Healthy tea, healthy me
There you have it. Our pick on the 10 best ingredients to indulge in this winter. Included in our some of our finest and freshest teas to help your body fight flu and colds this winter.