The Best Earl Grey Tea For The Holidays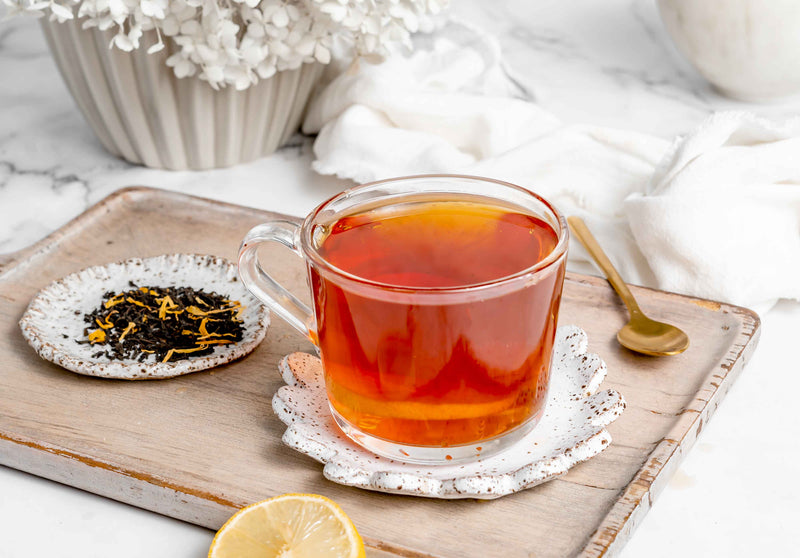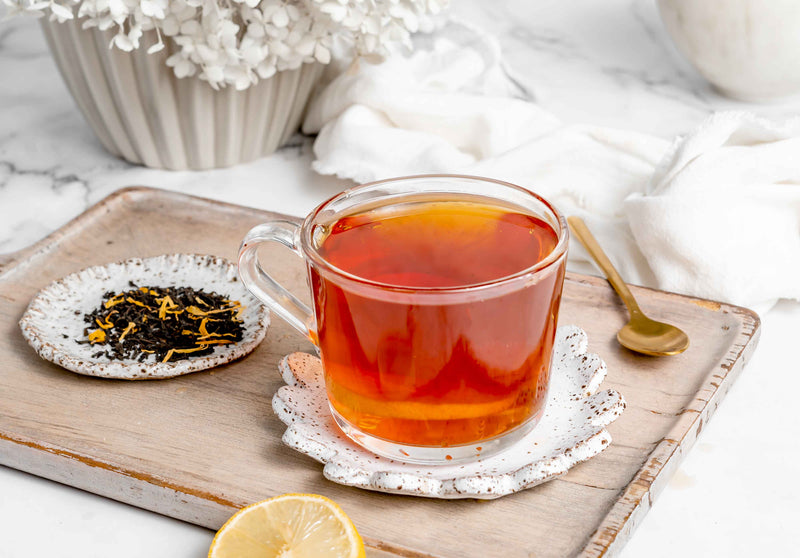 The Best Earl Grey Tea For The Holidays
The holiday season is almost upon us, and we love this time of year that is filled with gifts and delicious treats. But the most delightful is cozying up by the fire or enjoying holiday festivities with the best Earl Grey tea in Australia.
Earl Grey tea ingredients are mainly a combination of single-origin black tea infused with oil from the peel of bergamot oranges. Combined, it highlights a bright and complex brew with a subtle aroma and deep flavour. As a result of the traditional process used to create black tea blended with the fragrance of citrus, this is one of the favourite teas served all around the world.
How to enjoy Earl Grey tea during the holidays
You can brew a cup and enjoy sip by sip whilst decorating the house or wrapping Christmas gifts. 
Include these tea flavours into your afternoon tea spread or serve them up at your family holiday tea or dinner party. Brew them in a teapot with orange peels and a touch of sweetener to take the flavour up a notch. 
These are also excellent gifts for people who love or have teas on their wish list for Santa this year. 
Include Earl Grey tea in your holiday food recipes. Hint - Earl Grey tea cookies and cake are delicious. Why not spice up your hot chocolate by adding this tea into the mix? Yum!
Discover our range of Earl Grey teas
Supreme Earl Grey - Our Supreme Earl Grey combines whole leaf black tea, marigold flowers, lemon peel & cold press bergamot oil for a beautifully balanced traditional Earl Grey with a twist of citrus.
French Earl Grey - Let the French superlatives flow with every sip of this magnificent, rich blend. An Earl Grey with a twist. Put the bon into bonjour every morning with this tea that is aptly described as a 'melody of fruit'. Typically, gallic – deep and complex, comprising of whole leaf black tea, rosehip, pineapple pieces, mango pieces, marigold, rose petals, cold press bergamot oil, passion fruit, soursop, and strawberry flavour. Best enjoyed whilst wearing a beret.
Cream of Earl Grey - Here's a twist on a regal classic. Delicately blends single origin white tea with the classic natural flavours of Earl Grey for a tea that delivers hints of vanilla with subtle hues of bergamot. If you're hosting a high tea this is the tea to impress. An Earl Grey tea that doesn't need milk and perfect for an after dinner relaxing treat.
Brewing a perfect cup of Earl Grey tea
For the best flavour always use fresh, filtered, low mineral cold water. Never reboil the water as it loses oxygen and becomes flat.
Water temperature has a profound impact on infusion quality, so brewing to the correct temperature will make sure you extract the optimum flavour of this tea at 99C.
Steeping time is very much a matter of taste when it comes to Earl Grey. Most tea connoisseurs steep their tea at 2-4mins.
Exact measurements will vary depending on how strong you like your tea, how large your favorite cup is, and how many cups your teapot holds. For loose tea, we recommend one and a half teaspoon per eight-ounce cup.
Enjoy it with lemon or milk or savour the natural flavour and color straight from the pot.
Earl Grey tea benefits
A cup can boost your overall health. Here's a breakdown of earl grey tea benefits. 
Energy booster

-

Earl Grey features a caffeine boost like coffee without some side effects. Caffeine levels in tea are lower and can perk you up and keep you active throughout the day. 
Improves Immunity

–

A key ingredient in Earl grey tea is bergamot. It has become recognized as having many health benefits. While it adds that delicious citrusy flavour to the tea, it also has antibacterial properties that give your immune system a boost. This tea is an ideal cold remedy. 
Boosts metabolism

-

Citrus has always been believed to encourage weight loss and combined with the polyphenols in the tea will increase your metabolism to quicken the weight-loss process. Next time you enjoy a cuppa Earl Grey, try adding lemon for a great taste and benefit to your body!
Improves digestion

- It 

helps protect your gut health and support the digestion process. And if you need more reasons to drink Earl Grey, these same ingredients have natural anti-inflammatory qualities that can help relieve constipation and acid reflux.
Celebrate the holidays with Earl Grey tea
Bold in flavour. Rich in holiday spirit. There's an Earl Grey for everybody. Take a moment to sit down, relax and enjoy one of our aromatic and flavourful Earl Grey teas.